The Painting Contractors Springfield IL Has Come to Rely On
Mid-Illinois Companies is a safety-focused, quality-driven commercial construction and maintenance service company in Springfield, IL. We are committed to community involvement and quality craftsmanship and have been privately owned for 49 years. Look no further if you are looking for painting contractors in Springfield IL. Not only do we take pride in our reputation for dependable service and quality work, but we also provide our contractors with ongoing training to enhance their experience with the commercial painting of exterior, interior, and industrial spaces. Our contractors have trained in areas such as home energy efficiency and leadership. Mid-Illinois Companies values teamwork, on-the-job learning, and giving back to our communities.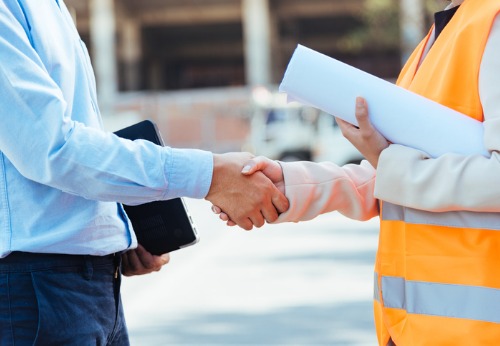 Lasting Relationships
Thanks to our high-quality craftsmanship and commitment to community involvement, we've built many lasting relationships with local businesses in the Peoria and Springfield areas. Thus, business owners know they can count on us for getting commercial painting projects done on budget and on time, with few disruptions. Furthermore, we have valuable experience with painting new construction, touching up an existing space, or completely changing the look of a current commercial space with a fresh coat of paint. We look forward to building a relationship with you and providing your business with efficient contractors you can trust.
Committed to Safety
Mid-Illinois Companies takes safety seriously. Moreover, we make a point to not only meet safety requirements in the field but exceed them. Our highly skilled contractors have won several safety awards over the years, including the Tri-Con Safety Award. In addition to this, our commercial painting services include marking posts and other safety features that may be required by OSHA or other regulations in your place of business.
Everything You Need
In addition to providing reliable painting contractors in Springfield IL, our professionals are trained in a variety of other construction and maintenance services as well. If you need more than just commercial interior or exterior painting done for your medical, industrial, or commercial business, give us a call or send us an email today. Our highly-skilled contractors also provide:
Contact Mid-Illinois Companies Today!
No project is too large or small for us. If you'd like to speak with one of our team about hiring painting contractors in Springfield IL, call us today at (217) 685-5486 for a free initial estimate. You can also find us located at 1700 E Clear Lake, Springfield, IL 62703. At Mid-Illinois Companies, we're proud to offer a full line of construction and maintenance services, for whatever your business needs.