Full-Service Interior Contractor for Bloomington IL
When you need an interior contractor in Bloomington IL, you want one with experience and a reputation for getting results. Mid-Illinois Companies delivers just that: quality and experience. We are one of the most respected interior contractors for Central Illinois businesses.
Our company specializes in quality work performed on time and on budget. Though we started as a small, privately-owned construction company in 1970, we have become one of the most reliable contractors throughout Central Illinois. Consequently, we have expanded to include offices in both Peoria and Springfield. We firmly believe no job is too big or too small for our team of contractors.
When Do I Need an Interior Contractor?
How do you know when it is the right time to hire an interior contractor? Should you wait until your business outgrows your space? Or do you hire a contractor when your office needs a small renovation or addition? Let our team advise you on the best course of action for your business.
Change Up Your Space: Before you spend big on a new office or think of making an addition, consider a layout change instead. Our team can provide some creative interior contracting and design. Often, small changes like knocking down a wall to open up a space can make a big difference and energize your workforce.
Update an Old Space: Creating a new space in an older building can get difficult. Your space may contain limitations that limit what you can do with your new work environment. On the other hand, you can get ideas you never imagined by working with a creative interior contractor in Bloomington IL. Consequently, you should rely on Mid-Illinois Companies for a fresh perspective.
Gain Code Compliance for Your Building: Before you make any changes to your building, you need to ensure it complies with local building codes. Therefore, you should let Mid-Illinois Companies review what you want to do and make suggestions that ensure code compliance. We make safety our priority on all projects and maintaining code compliance keeps you and you workers safe.
Our Services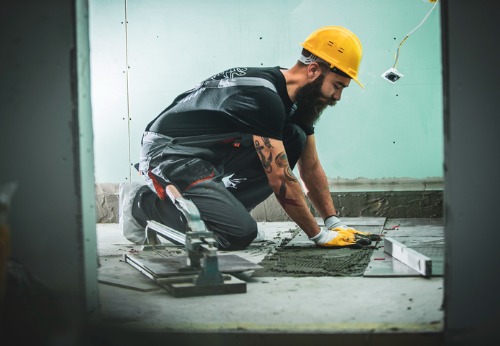 Mid-Illinois Companies can fill your need for an interior contractor in Bloomington IL. However, we can offer you other services as well. Our company can perform the following:
Request an Estimate
Search no more for an interior contractor in Bloomington IL. Mid-Illinois Companies can handle any job, no matter the size. You can contact us at 309-674-0717 to request a proposal. Plus, you can reach us at our Peoria office located at 905 NE Adams St, Peoria, IL 61603.